Cardiac Care in Sanford, Florida
Central Florida Regional Hospital is one of the only hospitals that provides complete cardiopulmonary care in Seminole and West Volusia counties. At Central Florida Regional Hospital's Cardiopulmonary Services Department, we use advanced technology and techniques to perform a full range of procedures, from diagnostic exams to complex surgeries.
For more information about our cardiopulmonary services, call our Consult-A-Nurse® team at (800) 445-3392.
Recognition
---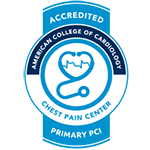 ---
The American College of Cardiology recognized us as an Accredited Chest Pain Center with Primary PCI (percutaneous coronary intervention).
The College of American Pathologists certified our Cardiopulmonary Laboratory.
The American College of Cardiology designated Central Florida Regional Hospital as an Accredited Chest Pain Center with Primary PCI (percutaneous coronary intervention).
Cardiology and Cardiopulmonary conditions we treat
Our cardiologists and cardiopulmonary specialists treat a wide range of heart and lung conditions, including:
Aneurysm
Angina and acute coronary syndrome
Aortic valve disease
Arrhythmias, including atrial fibrillation
Autonomic disorders
Carotid artery disease
Congenital heart disease
Congestive heart failure
Coronary artery disease (CAD)
Endocarditis
Heart attack (acute myocardial infarction)
High cholesterol
Hypertension
Hypertensive heart and chronic kidney disease
Hypotension
Mitral valve disease
Obesity
Pericardial disease
Pulmonary hypertension
Pulmonary valve disease
Septal defect
Sleep apnea
Stroke/Cryptogenic stroke
Syncope
Thrombolysis
Tricuspid valve disease
Heart attack care
When it comes to heart attacks, fast and effective cardiac care is essential. As an Accredited Chest Pain Center with Primary PCI, we have the staff, equipment and medical expertise to care for every type of heart attack.
Heart attack symptoms
Heart attacks are medical emergencies. It's important to recognize the signs of a heart attack and take immediate action.
Common heart attack symptoms include:
Anxiety
Back pain
Chest pressure, squeezing or discomfort
Fatigue
Feeling of fullness
Jaw pain
Nausea
Pain that travels down one or both arms
Shortness of breath
Patients experiencing heart attacks may not have all of these symptoms. Also, symptoms may come and go until finally becoming constant and severe.
If you think someone is experiencing a heart attack, call 911 immediately.
Cardiopulmonary screening and imaging
Our cardiopulmonary specialists diagnose and treat respiratory and cardiac conditions with services, such as:
Cardiac stress testing
Echocardiography (ECHO), including transthoracic ECHO and transesophageal ECHO
Electrocardiography (EKG)
Holter monitoring
Methacholine challenge testing
Neurodiagnostic services
Oxygen evaluation
Plethysmography
Pulmonary function testing (PFT)
Ultrasound, including transthoracic, transesophageal and carotid ultrasounds
Cardiac stress test
A cardiac stress test is an EKG performed while a patient is exercising. This test is used to determine how the heart responds to physical stress.
Echocardiography
Echocardiography involves noninvasive diagnostic testing of the heart and its functionality. This test helps physicians diagnose and determine the severity of various cardiac diseases.
Electrocardiogram (EKG)
An EKG is a safe and painless test that records electrical impulses of the heart. A doctor may recommend an EKG for various reasons, including chest pain, shortness of breath, dizziness and an irregular heartbeat.
Pulmonary function test (PFT)
A PFT measures the health of the lungs and enables doctors to detect changes in respiratory function. Many causes of lung problems can be successfully treated when detected early.
Treatments we provide
Our program offers a range of treatments, including:
Angioplasty
Atherectomy
Cardiac ablation
Cardiac catheterization, including coronary angiography and peripheral artery catheterization
Cardiac resynchronization therapy
Cardioversion
Cardioverter-defibrillator or pacemaker insertion, removal and repair
Coronary angioplasty
Implantable cardiac monitors
Leadless pacemakers
Left atrial appendage device
Open-heart surgery
Respiratory therapy
Stent placement
Tilt table testing
Transcatheter aortic valve replacement (TAVR)
Cardiac catheterization
Our Cardiac Catheterization Laboratory provides images of the heart and cardiac vessels to aid in the diagnosis and treatment of heart disease. We use modern cardiac catheterization equipment to ensure high-quality outcomes for our patients.
Electrophysiology
Electrophysiology is the study of the heart's electrical system. It is used to understand the electrical properties of the cells and tissues within the heart in order to diagnose and treat certain heart conditions, such as heart rhythm disorders and arrhythmias. During an electrophysiology study, a doctor will insert catheters through blood vessels that connect to the heart. These catheters are attached to small electrodes that can measure electrical activity.
Heart and vascular surgery
Our cardiovascular surgeons perform a wide range of heart and vascular surgeries. Our cardiovascular surgeons use minimally invasive and traditional techniques to treat heart and vascular conditions.
Cardiac risk profile screening
We offer free cardiac risk profile screenings by appointment on Tuesday and Thursday mornings, from 7:00am to 10:00am. These screenings involve blood testing, which requires fasting.
For more information or to schedule a screening, call us at (800) 455-3392.
Cardiac rehabilitation
To support our patients who are managing heart conditions and recovering from heart and vascular surgery, we offer a cardiac rehabilitation program. This 12-week outpatient program helps patients gain more endurance, strength and confidence and promotes heart-healthy lifestyles.
Cardiology locations
Retrieving location data...