Emergency room in Sanford, Florida
Central Florida Regional Hospital's emergency room (ER) provides the Greater Sanford and Seminole County area with 24/7 emergency care. Our skilled ER doctors, nurses and staff work together to deliver high-quality care to patients when they need it most.
If someone is experiencing a medical emergency, call 911. For more information about our ER, call our Consult-A-Nurse® team at (800) 445-3392.
Recognition
---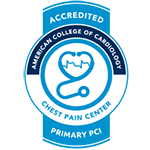 The American College of Cardiology designated Central Florida Regional Hospital as an Accredited Chest Pain Center with Primary PCI (percutaneous coronary intervention). Also, The Joint Commission gave us The Gold Seal of Approval® in sepsis treatment and designated us as a Primary Stroke Center.
Conditions we treat in our ER
Our emergency room doctors treat a range of injuries and illnesses, including:
Dehydration
Difficulty breathing
Fevers
Fractures
Head injuries
Heart attacks
Profuse bleeding
Seizures
Severe allergic reactions
Severe infections
Severe pain
Strokes
Heart attack care
When it comes to heart attack treatment, immediate care is essential. As an Accredited Chest Pain Center with Primary PCI, our doctors provide fast, effective heart treatment to patients experiencing acute heart attacks.
Heart attack symptoms
Common heart attack symptoms include:
Pain or tightness in the chest, arm, jaw, shoulders or upper back
Shortness of breath
Unusual onset of fatigue or discomfort in the arms, back, neck or stomach
Vomiting or nausea
Weakness or dizziness

If you think someone is having a heart attack, call 911 immediately.
Advanced stroke care
As a Primary Stroke Center, we have the medical technology and skilled doctors to deliver high-quality stroke care to patients 24/7.
Fast emergency treatment
Our Care Path system allows our ER team to treat patients with minor emergencies in a timely fashion. On average, patients who are not in life-threatening situations are seen by a doctor within 60 minutes.
Kid-friendly ER
An unexpected trip to the ER can be an anxiety-inducing experience for anyone, especially children. That's why our kid-friendly ER is designed to meet the unique needs of kids while giving their parents peace of mind.
Our emergency specialists and nurses are certified in pediatric advanced life support and are on-site 24/7. We are dedicated to offering fast, effective and specialized care to our youngest patients.
Trauma center
The state of Florida has designated Central Florida Regional Hospital as a Level II Trauma Center. Trauma is a serious injury or shock to the body. It is caused by a physical force, such as an accident or violence.
Our emergency specialists work together with emergency medical technicians to provide life-saving trauma care to patients in Orange, Seminole, Sumter, Lake and Osceola counties.
Freestanding ER in Heathrow
Central Florida Regional Hospital recently opened a freestanding ER to provide emergency care to the Heathrow community. Heathrow ER has a dedicated cardiopulmonary resuscitation room, 12 private patient rooms and laboratory and imaging services.
Emergency care locations
Retrieving location data...